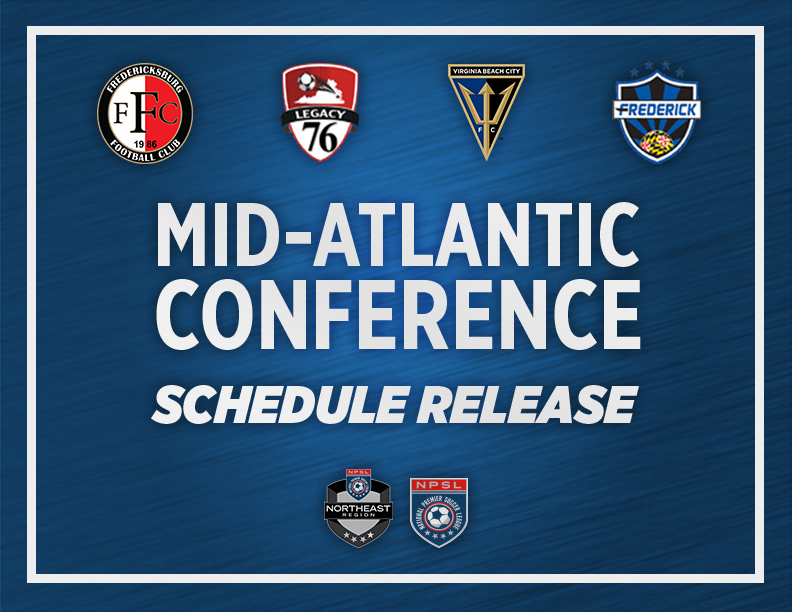 Mid-Atlantic Conference Announces Schedule
The Mid-Atlantic Conference is proud to announce their schedule for the 2017 National Premier Soccer League (NPSL) season.  FC Frederick, Virginia Beach City FC, Legacy 76, and Fredericksburg FC are the members of the Mid-Atlantic Conference this season.
"As we jump into the 2017 season, I'd like to thank the fans for supporting their local clubs and continuing to help grow the NPSL in their communities around the United States," Steven Wagoner, member of the NPSL Board of Directors and Virginia Beach City FC team owner, commented. "Your support is paying off.  We had eighteen NPSL clubs invited to the 2017 Lamar Hunt U.S. Open Cup, six players were selected to the 2017 MLS SuperDraft and have approved thirty expansion clubs for 2017. Chattanooga FC also hosted MLS's newest expansion club, Atlanta United FC in front of over 12,000 fans this past February. I strongly believe 2017 will continue to be one of the NPSL's most exciting years in league history. On behalf of the Mid- Atlantic Conference, I'd like to thank the fans for their continued support and look forward to seeing you this season."
"We are very excited for this Npsl season, as we look to take the momentum gained from last year  and try to get back to the regional playoffs. The team returning looks solid and with some new faces we think we can again be a contender from the mid Atlantic." Added Bobby O'Brien, Virginia Legacy Soccer Club Technical Director.
The conference will play a total of eight total games, including six group stage regular season games and two playoff games. The first six games will include one home and one away game for all teams. Game 7 will be determined by seeding (#1 vs #4 and #2 vs #3). Game 8 will feature the two winners from Game 7 and the two losers from Game 7.
The winner from the Mid-Atlantic Conference championship match will advance to the NPSL Northeast Region semifinal as part of the league's national playoffs.
Conference members are planning additional games, including friendlies and exhibitions. 
Both Fredericksburg FC and Legacy 76 are in the U.S. Open Cup.  Fredericksburg FC, Legacy 76, and Virginia Beach City FC also have Women's Premier Soccer League (WPSL) teams and will have doubleheaders prior to NPSL games.
ABOUT THE NPSL
The NPSL is a national league that operates in the 4th Division of the U.S. Soccer pyramid.  NPSL teams are eligible to participate in the U.S. Open Cup through their affiliation with the U.S. Soccer Federation (USSF) and the United States Adult Soccer Association (USASA). The NPSL is the largest men's national league in North America with nearly 100 teams.  NPSL alumni have gone on to the highest levels of the game domestically and internationally.