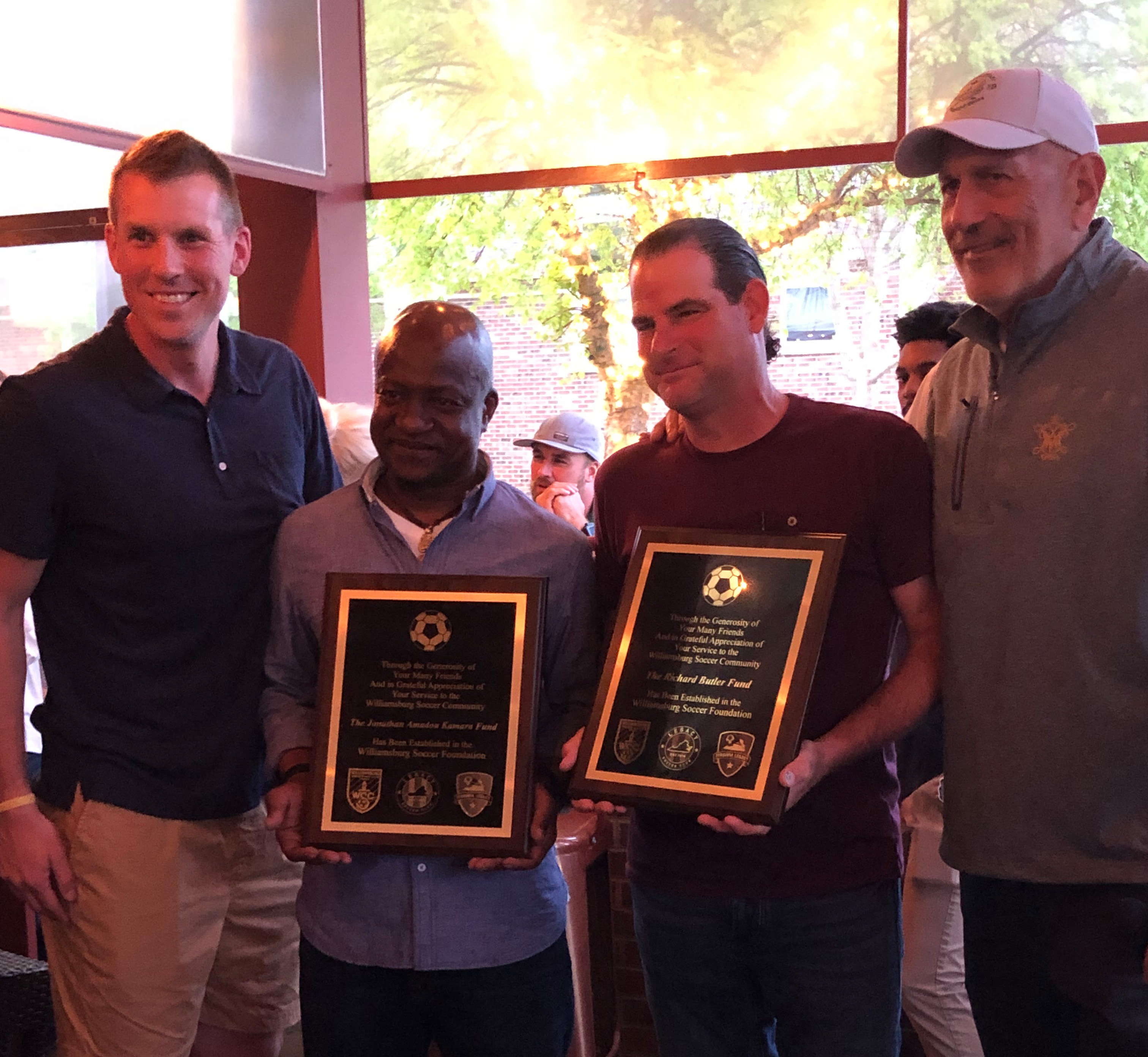 Fifteen years ago the Virginia Legacy Soccer Club started their free after-school soccer program for underserved families in the greater Williamsburg area. In 2019 this Community Partnership program is currently serving over 270 children at 8 area elementary schools. Over the past fifteen years, thousands of children have benefitted from this opportunity.
Two individuals who were instrumental in initiating this program were Richard Butler and Jonathan Amadou Kamara.
Richard transformed the club from a small town volunteer organization to a professionally run, regional youth soccer power. He was a tireless director with high standards for the club. Richard hired dozens of professionally-certified coaches, opened the first full-time club office, ran summer training camps, coached championship club teams, and organized countless international trips, mostly to his hometown of London. He was also one of the original founders of the Virginia Club Champions League, now the CCL. Richard Butler was the first full time employee of the Virginia Legacy Soccer Club (formerly the Williamsburg Soccer Club)
Jonathan Kamara became immersed in youth soccer coaching after completing his playing career at W&M. He has become the "pied piper" of youth soccer in the area and has spent countless hours covering Community Partnership practices and games, delivering equipment and uniforms and doing clinics at area elementary schools, coaching travel teams and ADP, and conducting clinics at all levels.
In honor of these two individuals, the Williamsburg Soccer Foundation is establishing two endowed funds, the Richard Butler Fund and the Jonathan Amadou Kamara Fund. Both endowments will support scholarships for players from the Community Partnership program who move into travel soccer and other programs in the Virginia Legacy SC.
On Sunday, April 14th, we surprised Richard and Jonny with this announcement. In anticipation of this, we would like to ask you to consider a contribution to one or both of these endowment projects. The initial goal is $25,000 for each fund.
Here is a link to our new Williamsburg Soccer Foundation website and the donation link. www.williamsburgsoccer.com
Thanks for considering a gift to honor these deserving individuals and to support a worthy cause.
Al Albert
Fundraising Chair
Williamsburg Soccer Foundation