Registration Closes Aug 28th - Games Begin September 14th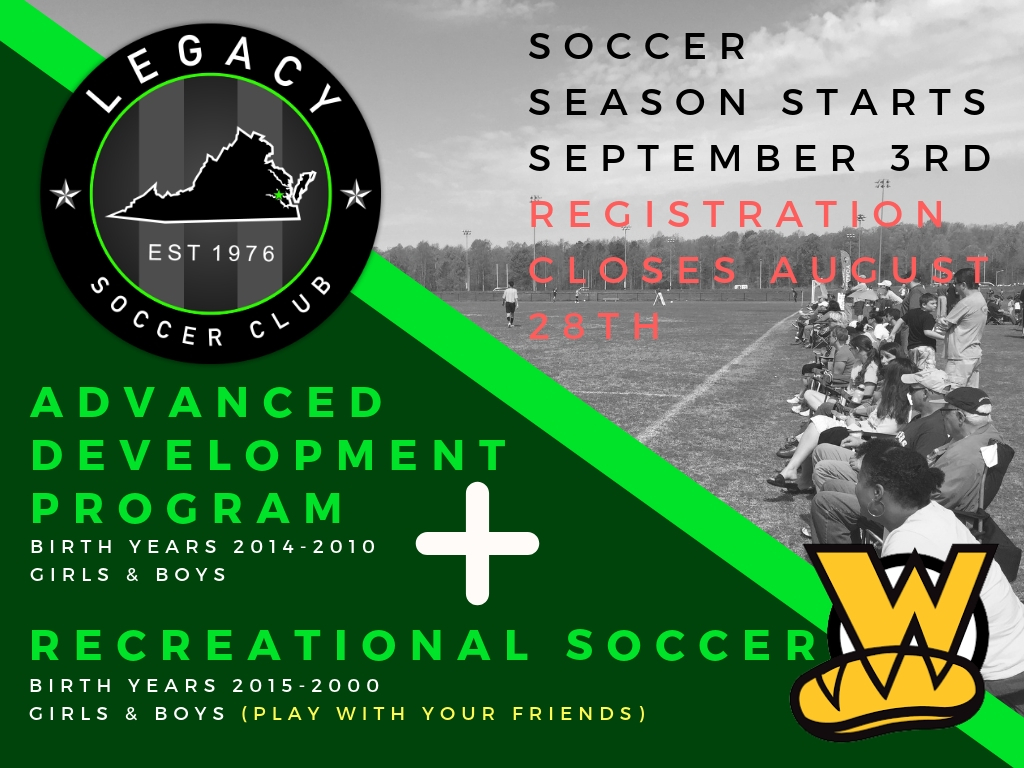 RECREATIONAL
(Birth Years 2015-2000)
Virginia Legacy Soccer Club invites you to come join us this spring to The Williamsburg-James City County (W-JCC) Recreational Soccer League, designed to be fun and educational. We offer officiated games by licensed referees. All recreational games have no recorded scores . The focus is to provide a healthy, fun, and instructional environment for children interested in playing soccer. Each child will play a minimum of half a game.
In Legacy's Recreation Program we group players by age. The Virginia Legacy welcomes children of all skill levels and abilities to play in our recreational program. We believe that soccer provides a great vehicle to learn life's many lessons. Through the game kids stay fit, learn how to be part of a team and meet new friends, but they also build their confidence, communication skills and ability to meet and solve new challenges.
Williamsburg
Each player will choose practice on Tuesday, Wednesday, or Thursday
All practices are at 5:30 (younger) or 6:30 (older)
All Fall practices will take place at Blayton ES or Hornsby MS (850 Jolly Pond Road, Williamsburg VA 23188)
All Games at Warhill Sports Complex (5700 Warhill Trail, Williamsburg, VA 23188)
ADVANCED DEVELOPMENT PROGRAM - ADP
(Birth Years 2014-2010)
The Advanced Development Program (U6-U10 ADP) is the transition stage between the recreational side of the Virginia Legacy Soccer Club and the travel side. This player-centric program offers our younger players the opportunity to be exposed to a more focused soccer environment that will enhance their skills and approach to the game.
The objective of the Legacy's Advanced Development Program is to provide our youngest players with an environment that promotes learning, creative thinking, problem solving, skill development and love for the game in an age appropriate soccer environment.
Our age appropriate curriculum has been put in place to provide our players with the fundamental skills that they will need as they continue to develop. For this reason, our focus at these ages is to develop the individual and small group skills of our players.
Locations for ADP Include
Newport News(Hines Middle)
Tues & Thurs nights
2014 + 2013 Birth Years (5:30-6:30pm)
2012 + 2011 + 2010 Birth Years (6:30-7:30pm
Poquoson(Poquoson Elementary)
Mon & Wed nights
2014 + 2013 Birth Years (5:30-6:30pm)
2012 + 2011 + 2010 Birth Years (6:30-7:30pm
Williamsburg(Warhill)
Mon & Wed OR Tues & Thurs nights
2014 + 2013 Birth Years (5:30-6:30pm)
2012 + 2011 + 2010 Birth Years (6:30-7:30pm
*All games played at one of the best sports complex's in the area - Warhill Sports Complex (5700 Warhill Trail Road, Williamsburg, VA 23188)