By Kellen Holtzman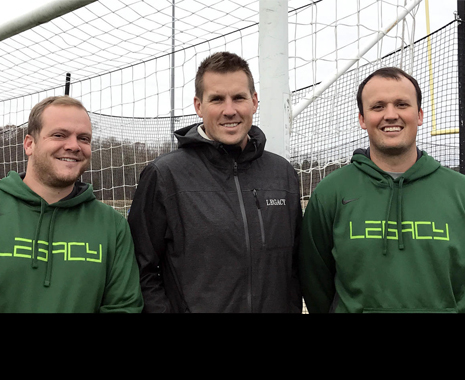 Virginia Legacy Soccer Club celebrates 40th anniversary
By Kellen Holtzman - Virginia Gazette
[Click here for VAGazette Article]
When Williamsburg Soccer Club became the Virginia Legacy Soccer Club in 2005, the rebrand was greater than a marketing tactic.
"Legacy" embodies what the club ultimately became after its humble formation in 1976.
Look no further than Alex Spirn, the club's community director. His father, Stu Spirn, was influential in the club's creation and was a longtime club director.
Alex Spirn grew up playing in the club, which has celebrated its 40th anniversary throughout the past year, as did technical director Bobby O'Brien and Shawn Trueblood, the club's Peninsula director of coaching and a former Lafayette and Christopher Newport University player. Shawn's mother, Tracy, serves as a club administrator and is a former team manager.
Alex Spirn, who played at Jamestown and Longwood University, has a simple goal: Be to others what his mentors were to him.
"I don't complain to anybody about my job because I love what I do," Alex Spirn said, "and I'm glad that the people in my life have kind of geared me towards that."
That year 40 was such a big one for Virginia Legacy just made the anniversary recognition sweeter.
The cherry on top was a thrilling summer for the club's most senior team, the aptly-named Legacy 76, which is currently waiting to see if it will land a spot in the prestigious Lamar Hunt U.S. Open Cup. The tournament features amateur and professional club teams of every tier including top-flight Major League Soccer. It would be the first Open Cup bid for semi-pro Legacy 76, which won its first National Premier Soccer League playoff game in July under coach Kevin Darcy.
The year for Legacy included the announcement of the addition of a Women's Premier Soccer League team, the women's version of the National Premier Soccer League, which is akin to a wooden bat summer college baseball league.
Achievements also included Legacy's under-16 boys and under-17 girls fall teams reaching the state final four and the growth to 52 teams across the Peninsula.
Legacy does indeed seem the perfect name for the club, but it may have also outgrown a Williamsburg label alone. The club now welcomes more than 800 players from across Hampton Roads and into Richmond.
"We are thrilled with where we are and where we have come and thankful for all the people who have helped paved the way for soccer in this community," O'Brien said, "hence the reason three of its former players are back working full-time to ensure the kids in the Peninsula and Williamsburg have even better opportunities through soccer than we did."
O'Brien, who starred at Jamestown and Virginia Tech, started working full-time for the club in 2005. Throughout high school and college, he interned with the club, coached and eventually played with the senior team, which then competed in the United Soccer League Premier Development League.
His coach with the Williamsburg Soccer Club was former club director Richard Butler.
"He established some things that we still do today," Trueblood said of Butler. "Bobby worked with him, alongside him, so now Bobby is running the club and has a lot of those same qualities. In the community, you have Alex running preschool classes. We're at field days. We're at trunk-or-treats. We're in the community all the time."
Whenever he is asked for a comment during Legacy 76's season, O'Brien never hesitates to mention the club's overarching goal of developing talent through the ranks of the club.
Legacy features recreational (co-sponsored with James City County), advanced development, travel, special needs, and community partnership programs. The community partnership program works in conjunction with the Williamsburg Health Foundation, seeking to expose disadvantaged elementary school students to free soccer instruction.
Al Albert championed the community partnership program. The William and Mary coaching great still serves on the Legacy board, more than 40 years after helping start the club. Its origins can be traced to the Williamsburg Youth Soccer League, which predates the club launch in 1976 by a few years. Organized youth soccer was in its infancy then and Albert believes the growth of Legacy's club has mirrored that of the sport nationwide.
One day, Albert hopes, the club will produce a national team player.
"Could we have envisioned it? I don't think we even thought about it that much," Albert said. "We just wanted to give kids a chance to play."
Notes: A Legacy anniversary release credits the club's creation to Al Albert, Vins Sutlive, Jr., Vins Sutlive, III, Emeric Fischer, Ken Bick, Len Schifrin, Mike Derrig, Stu Spirn, Ron Geise, Scott Whitehead, Mike Kokolis, and Bob Behncke; According to the release, Steve Shaw, Richard Butler, Chris Norris and Jon "Amadou" Kamara put their "stamp on the club and helped to create a hotbed of talent in such a small community," and past directors Kevin Darcy, Jeff Dominguez and Tim Cristian were praised for their contributions along with O'Brien.