By Kellen Holtzman - Va Gazette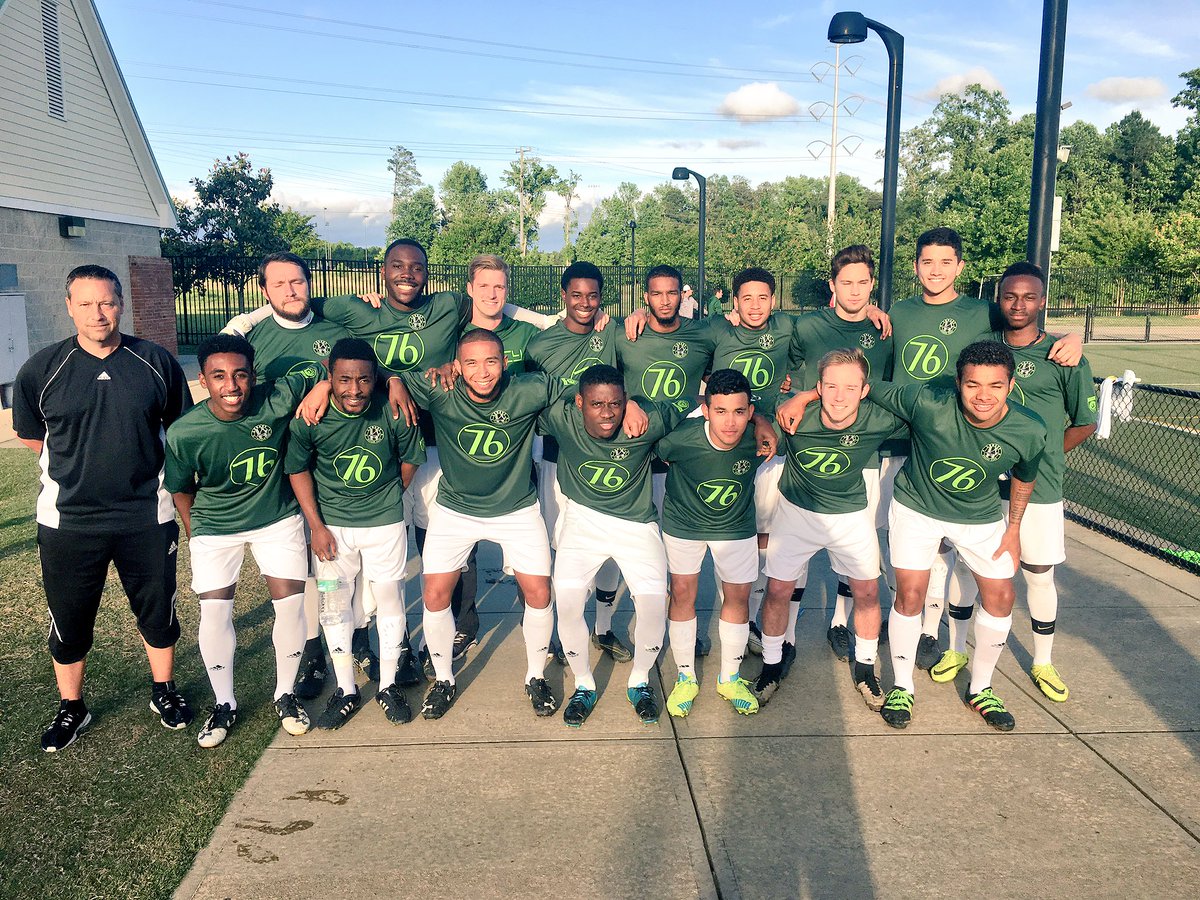 Wolon's Late Striker Salvages Draw for Legacy 76
By Kellen Holtzman
Click here for complete story & Interview with Max Poelker
Legacy 76 entered Saturday's National Premier Soccer League opener against Virginia Beach City FC expecting three points. But both sides left Wanner Stadium content with one after Legacy 76 pulled a late goal back to ensure a 1-1 Mid-Atlantic Conference draw.
Legacy 76 coach Kevin Darcy thought Virginia Beach had the better side for much of the night. So after former Jamestown star Jeff Wolons leveled in the 84th minute on a hard-earned dime from Max Poelker, Darcy wasn't begging for ample stoppage time.
Playing without a few injured top players and coming off Wednesday's Lamar Hunt U.S. Open Cup loss, it was a result Legacy 76 can live with after coming away with four points in last year's series with Virginia Beach.
"I think it showed our determination, our heart, that we want to come away from any game with a result," Poelker said. "I know it's not a win, but we'll take a point and go again next weekend."
Longwood's Poelker and James Madison's Brennen Burton collapsed on a Virginia Beach defender near the end line before Poelker won the ball. Poelker didn't see an opening in front of goal, so he slotted a pass backward to a charging Wolons, who ripped a shot inside the far post from about 15 yards.
Wolons hadn't even practiced with the team yet this season but has been on the roster each of the past two summers while Poelker, a former York standout, is in his first season with Legacy 76.
Midfielder Jimmy Grace of Christopher Newport University and former William and Mary defender Ryan Flesch each were each out with injuries. And the Tribe's Reeves Trott continued to be sidelined with an injury after missing the Open Cup match.
"I think we have a great collection of guys," Wolons said. "We just have to figure out how to mesh it all together. We're still figuring that out, but we played pretty well tonight."
Poelker has been one of the stars for Legacy 76 through two matches after finding the net as a second half substitute in the Open Cup loss at Carolina Dynamo at Macpherson Stadium near Greensboro, N.C.
Poelker said playing in the prestigious tournament was one of the most incredible experiences of his life since he has long wanted to be a part of the Legacy 76 program after playing in the Virginia Legacy Soccer Club as a youth.
"His work rate is unmatched," Darcy said. "He's really brought a ton of energy and just passion to compete up there. Technically, he's really good on the ball. He just does a lot of good things."
Another match in the Open Cup would have been gravy, but qualifying was still a watershed in program history. Legacy 76 appeared to be the better side, but failed to get the win against a Dynamo club making its 12th appearance in the 104-year-old knockout competition.
To bounce back Saturday with a late equalizer was nearly crucial for momentum in a conference that is sure to be tight again. Last year's champion, Fredericksburg FC, also bowed out in the first round of the Open Cup against Christos FC of Maryland, and will visit Legacy 76 and Wanner Stadium on Saturday in another early season showdown.